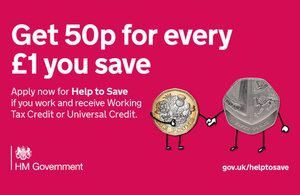 Hardworking people on low incomes are set to benefit from a new government savings account that offers a 50% bonus.
Help to Save will reward savers with an extra 50p for every £1 saved, meaning over 4 years a maximum saving of £2,400 would result in an overall bonus of £1,200.
The launch of the new account follows an 8-month trial, with over 45,000 customers who deposited over £3 million.
Help to Save is easy to use, flexible and secure, will help those on low incomes build up a 'rainy day' fund, and encourages savings behaviours and habits.
How much is saved and when is up to the account holder, and they don't need to pay in every month to get a bonus.
John Glen, Economic Secretary to the Treasury, said:
Savings shouldn't be a luxury, they are an essential part of planning for the future. But for some, putting away even a tenner each month can be a tough habit to get into.

Whether you're saving up to take the family on a much-needed holiday, or to take the next step in life, Help to Save is designed to make saving possible for every hardworking person in this country.
Help to Save is available to working people on tax credits and Universal Credit.
Paul Richard Hughes, from Torquay, said:
I wasn't saving before, so it has helped me save and it was easy to use.

It has enabled me to build up a savings pot and the bonus is very good value. It is much better than other savings accounts as the interest on other savings accounts is low in comparison.
Account holders can save between £1 and £50 every calendar month and accounts last for 4 years from the date the account is opened.
After 2 years, savers get a 50% tax-free bonus on savings. If saving continues, there is another 50% tax-free bonus after 4 years.
On maximum savings of £2,400 over 4 years, the overall bonus would be £1,200.
Savers can apply online or use the HMRC app.